The Red Top Ranch is located in beautiful southeastern Colorado, just East of Pueblo. The land and climate are similar to New Mexico; it's not really desert, but it is dry, arid and has lots of big open spaces!!! This also means that it can get really hot during the day, and really cold at night. During the spring season, average temperatures range from low 60's to high 80's during the day, and low 20's to mid 40's at night.


Enrollment is limited to 10 students per school. Each student is trained individually, according to their level of expertise. We have ALL levels of training at each school, from beginner to professional, everyone gets individual attention.
Students ages range from 7 to 47.
Red Top Ranch students gain valuable experience on correct usage and care of the equipment, horses, and the way to prepare them for the trickriding venue. The total training package would probably compare to any coaching activity - preparing not only for the next show, but also training in exercises, stretches, warm-ups, and costuming. This kind of training makes all the difference between a mediocre rider, and a polished professional trickrider.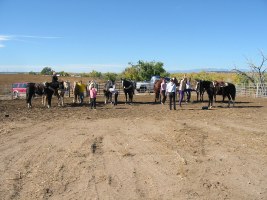 FAQ
Students ages range from 7 to 47
Horses and saddles available
Students may bring their own horse for training
Horse feed available for purchase
If you have an old trickriding saddle, bring it and we can update it or get straps made for certain tricks
Previous students furnishing seasoned trickriding horses and equipment receive a 15% discount
Classes limited to 10 students per camp
VHS video library available
Sunday morning church service


EQUIPMENT TO BRING
Layered clothing - i.e.turtleneck, long & short-sleeved t-shirts, sweatshirts, sweatpants or biking/running pants (made of stretchy bathing suit type material) *NO TIGHT JEANS* !
We recommend good socks to cover and protect you ankles.
Wrestling shoes or high top lightweight tennis shoes. NOT BASKETBALL TYPE OR THICK SOLES. You must be able to point your toes.
Weight lifting gloves, or you can cut off top of fingers of gloves that fit you hands. Many students have found these helpful. We have a few pair available.
Warm jacket, gloves, cap, earmuffs, &/or headband.
Long hair must be fastened back.
Rain gear advisable. Mud boots or overshoes are especially helpful.
Chapstick and sunscreen
Cameras and video cameras are welcome if you have someone to run them.

PREREQUISITES
Proof of insurance is required for students under 18 yrs of age
Basic familiarity with horseback riding
Students will get much more value from their training here while learning the tricks if they can already do at least 50 sit-ups, 30 pushups and pull-ups, and have been stretching and getting flexibility. Also basic familiarity with horseback riding is necessary.